The Best Crew and The Best Snorkel Tour
What Makes Us Different?
Our crew is the secret behind our 30+ years of success and the best Maui snokeling. The Maui Magic crew is the true "Spirt of Aloha". This crew is hands down the best on the island. Simply put, they love what they do and it shows. Priding themselves in providing a memorable experience and making you feel like family or Ohana as we like to say. Our crew is well-trained, knowledgeable and accommodating. They provide a one-on-one service to each and every person on our snorkeling tour. They are dedicated to provide everyone onboard with lots of fun and a truly unique Hawaiian snorkel adventure!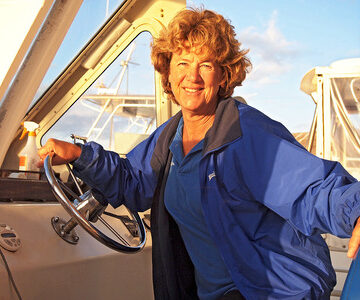 Captain Charlene
Hometown: Salem, OR
Captain Charlene has been a dedicated captain with Maui Classic Charters since 1987, longer than any other member of our team. She has crewed on several of our former vessels including the Teragram, the original Four Winds, and the Lavengro. Charlene now captains exclusively on the Maui Magic. Charlene was at one time the Hawaii State Women's Slalom Windsurfer Champion.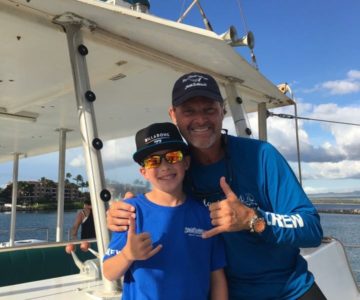 Captain Brennan
Hometown: Vancouver, BC
Hailing originally from Canada and then Arizona, Brennan has been with us since 1995. He serves as Captain on both of our boats, the Maui Magic and the Four Winds II. Known by Maui Classic Charters as our "Can Do" guy, Brennan is responsible for keeping our boats in tip-top shape. Brennan enjoys water skiing and mountain climbing in his free time.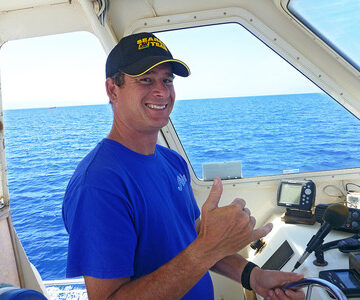 Captain Jason
Hometown: Eugene, OR
You're in for an adventure when Captain Jason is on board. He is known as our very own "MacGyver", prepared for any situation. Jason has been with us since 1998 and captains both the Maui Magic and the Four Winds II. He is in charge of teaching our crew Advanced First Aid, CPR, and AED. He's also qualified in Wilderness & Remote First Aid.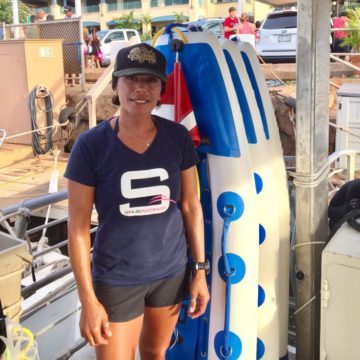 Marcella
Hometown: Santa Maria, CA
Marcella is our amazing SNUBA instructor on the Maui Magic. She started working for our company in 2004. Marcella spent 7 years as a Hotshot wild land fire fighter for the forest service. When she's not out on the water, you can find Marcella surfing, hiking, SNUBA, Scuba diving, snowboarding, or walking her two Portuguese water dogs on the beach. We are lucky to have her and she does a great job with the SNUBA program!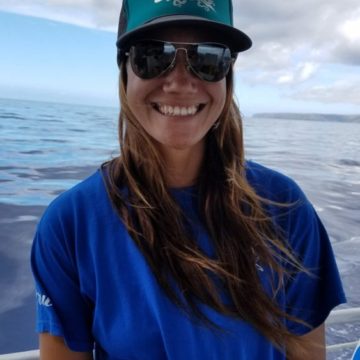 Ana
Hometown: Maui, Hawaii
Ana is full of team spirit! Born and raised on Maui, she's one of a kind! You can find this Maui girl surfing when she's not working hard on the Maui Magic. Not only does she enjoy catching waves, but she's a big food connoisseur, loves the Cubs, and enjoys hiking all the gorgeous locations around the island. She's an adventure seeker, which is why she's perfect on the Maui Magic!
Jesse
Hometown: Bend, OR
Jesse has been with Maui Classic Charters since 2015. She loves the outdoors and graduated with a degree in Environmental Studies from the University of Redlands.  When she is not working she is still spending her time in the water kayaking or snorkeling.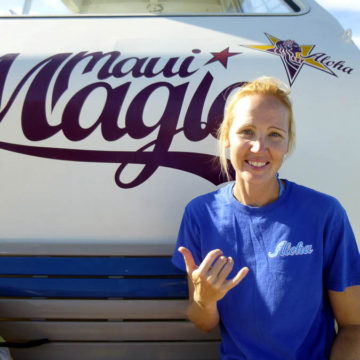 Katie
Hometown: Bloomer, WI
This Packer's fan from Wisconsin is easy to spot, being a 6' 1" tall and strawberry blonde. Katie plays a dual role for Maui Classic Charters, serving as First Mate aboard the Maui Magic two days a week and handling reservations at the corporate office. Katie is known on the boat for getting along famously with the youngsters. During her free time, you can see Katie at the beach or golfing. We have been thrilled to have Katie as part of our "ohana" since 2005.
Jenna
Hometown: Maui, Hawaii
This fun-loving redhead is the newest addition to our crew and has been with us since 2015. Born and raised on Maui, Jenna is quite knowledgeable about the island. Not only does she love the ocean, but she also adores birds. It's no surprise Jenna loves the ocean, since she grew up around water her whole life. Her favorite athlete is John Jon Florence and she enjoys following and watching him catch some of the most challenging waves throughout the world. You can catch Jenna hiking and camping when she's not working on the Four Winds II or the Maui Magic.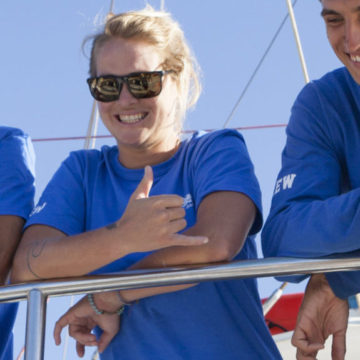 Alicia
Hometown: Bend, OR
Alicia has been with Maui Classic Charters since 2013.  She is a long time visitor who came annually to see her Grandmother and Aunt who live on the island.  She eventually grew tired of the cold weather and moved here permanently.  Alicia can be found working on both the Maui Magic and Four Winds.  In her down time she enjoys all Maui has to offer and loves hiking, camping, diving and surfing.