Experience SNUBA In Maui!
Add SNUBA to One of the Destinations on Your Snorkel Adventure!
There's no better way to see the wonders of Maui's coral reefs up close! Don't miss the opportunity to SNUBA and enhance your Maui Magic adventure! This unique underwater experience can be added for only $69 +tax.
SNUBA is a great way to see Maui's marine life up close and personal. Because the Maui Magic goes to two snorkel destinations, you will still have time to snorkel as well!
Like Scuba but Without the Hassle!
SNUBA is a unique, patented, shallow water, diving system that bridges the gap between snorkeling and scuba diving. The tanks and heavy equipment stay on the waters surface on a raft. You will be connected with a constant flow of air via a long hose. This allows for you to move freely and you are never more than a few feet away from the security of the raft floating on the surface. Your depth can be determined by your comfort level, whether that be 2 feet or 10.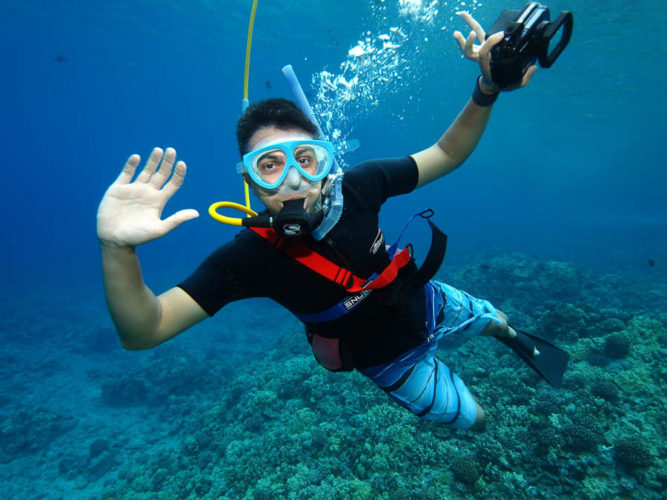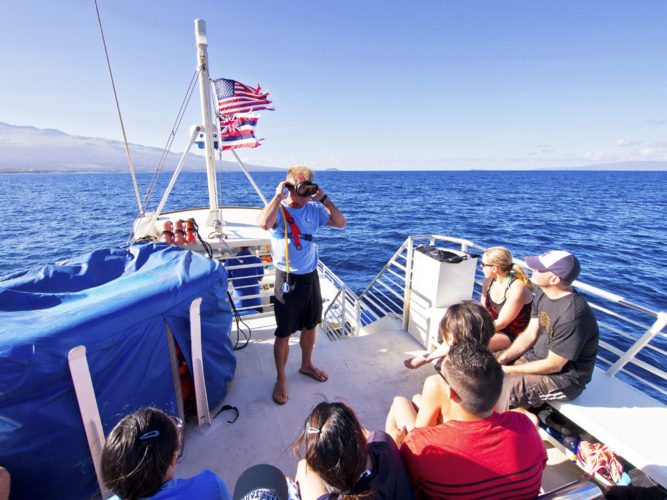 Professional Instruction
Our professional instructor will guide you through a short (usually 15-20 minutes is needed) instruction on the use, techniques, and procedures. After the short instructional class, you are ready to get in the water and start having FUN. Your SNUBA experience will last approximately 20-30 minutes at the dive site. SNUBA is perfect for those who want to experience the wonders of breathing underwater and diving down for longer periods of time. We even have wetsuits available for rent ($10) to help keep you warm while on your dive.
Safe, Easy Group Activity
It is safe, easy, and you are accompanied by a Certified Scuba Instructor the entire time. Our certified instructors (and underwater marine life guides) will be alongside you for assistance and will help point you in the right direction. To SNUBA, you should have strong swimming skills and previous snorkeling experience. There are some medical conditions that may preclude you from being able to SNUBA. You can discuss any concerns you may have with your SNUBA instructor the day of your tour. It is easily accessible to all individuals, even children (8 years and older). SNUBA is truly a unique and exciting option!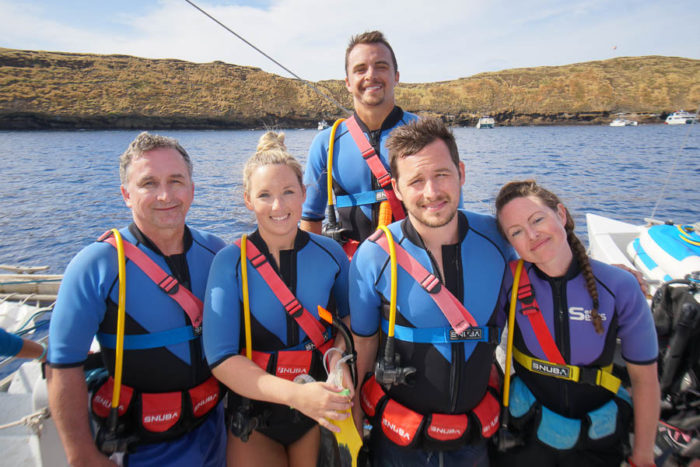 Reserve in Advance!
Because SNUBA is very popular and has limited availability, you must reserve your spots when booking online or call 1-800-736-5740 to reserve your SNUBA experience and add it to your Maui Magic Adventure Snorkel trip. No prepayment is required and there is no obligation to purchase. Payment for SNUBA is processed by your instructor onboard the boat, and he or she accepts cash or most major credit cards.